s4c  Training
Inner and Outer Transition
Creating lives, (life stories), which promote individual, community and planetary health and wellbeing
An opportunity to explore how we change through our stories and what both inner and outer transition mean for us, individually and collectively, in a safe and beautiful environment.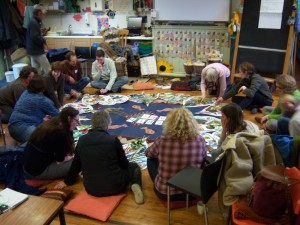 "We have to look after our inner landscape,
as well as our outer landscape."
Satish Kumar, Editor of Resurgence and Ecologist Magazine.
"We've created a culture which is very focused on the outer….All of us have a story about our culture, about civilization, about who we are as people …. that we're very attached to. That whole story in terms of material wellbeing is … in the process of change."
Sophy Banks, Co-founder of Transition Training.
The first s4c residential training was held March 16/17 2013 at Minstead Study Centre, Hampshire.
For more information on future trainings e-mail us at: info@stories4change.com or call us on 07984 585555